Enclosure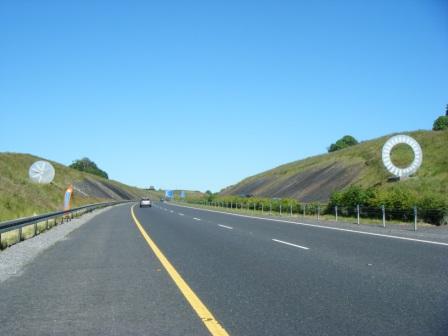 Project: 'Enclosure'
Artist: John O'Connor
Date of Installation: December 2005
Location: Just after Toll Bridge Cappagh Hill, Enfield, Co. Kildare
Size: The size of these sections are 6m in diameter for the larger of the two elements and 3.7 m for the disc.
About the artwork: 2 opposing steel circles on opposite sides of the road
Man has always made his mark on this ancient landscape and this is evident in the list of archaeological finds that have been made adjacent to the site. Standing stones, fulacht Fiadh, moated sites and enclosures or ring forts. This by-pass is a continuation of mans shaping of the landscape- a linking of a very ancient past with the present. The art work strives to make a statement of place in the context of the new roadway and the significance of the villages/towns which it by-passes. This statement should be visible to both the fleeting glimpse of the passing motorist or others who may wish to view the work more closely. The history and culture of the locality are loosely incorporated into the design of the work.
Having studied the many historical, cultural and social elements of the area, John O'Connor focused on the ring forts/enclosures of the area. This imagery also embraces the image of protection (as associated with the protection provided by these circular forts), and to a lesser extent the associations with the wheel/roundabout. The image of the circle is also very evident in pre-historic Irish art and symbolises life and live giving forces. He was also conscious of the fact that the landscape has been 'divided', especially at the point of this site, and his work aims to address the notion of 'reconnecting' the two sides visually,with two related works.
On one side there is an enclosed circle, while on the other a solid disc that has been cut from the centre of the larger disc.