Italian Garden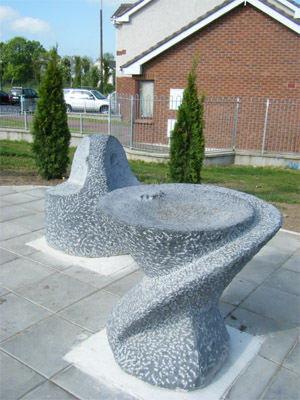 Title: Italian Garden

Artist: Benedict Byrne
Public Art Co-ordinator: Rina Whyte

Year of Installation: 2008

Location: Gallic View

Medium: Irish Limestone

Size: One piece 2.5 ft / Second piece 3ft height of each

Artist's Statement:
The idea was to create a place and space in the Gallic View housing estate, Kill, Co.Kildare for the residents where they can relax and take pleasure and pride of place. The piece was also created to be aesthetically pleasing.
One piece is a rain induced water feature whilst the second is a resting seat.
About the artist:
Benedict is from Dublin, studied sculpture in Dún Laoghaire College of Art in the early 80's, he then worked in the Sandyford granite quarries in County Dublin. He has exhibited bronzework, paintings, drawings and prints and has been commissioned to create large scale pieces in stone for private and public commissions all over Ireland.