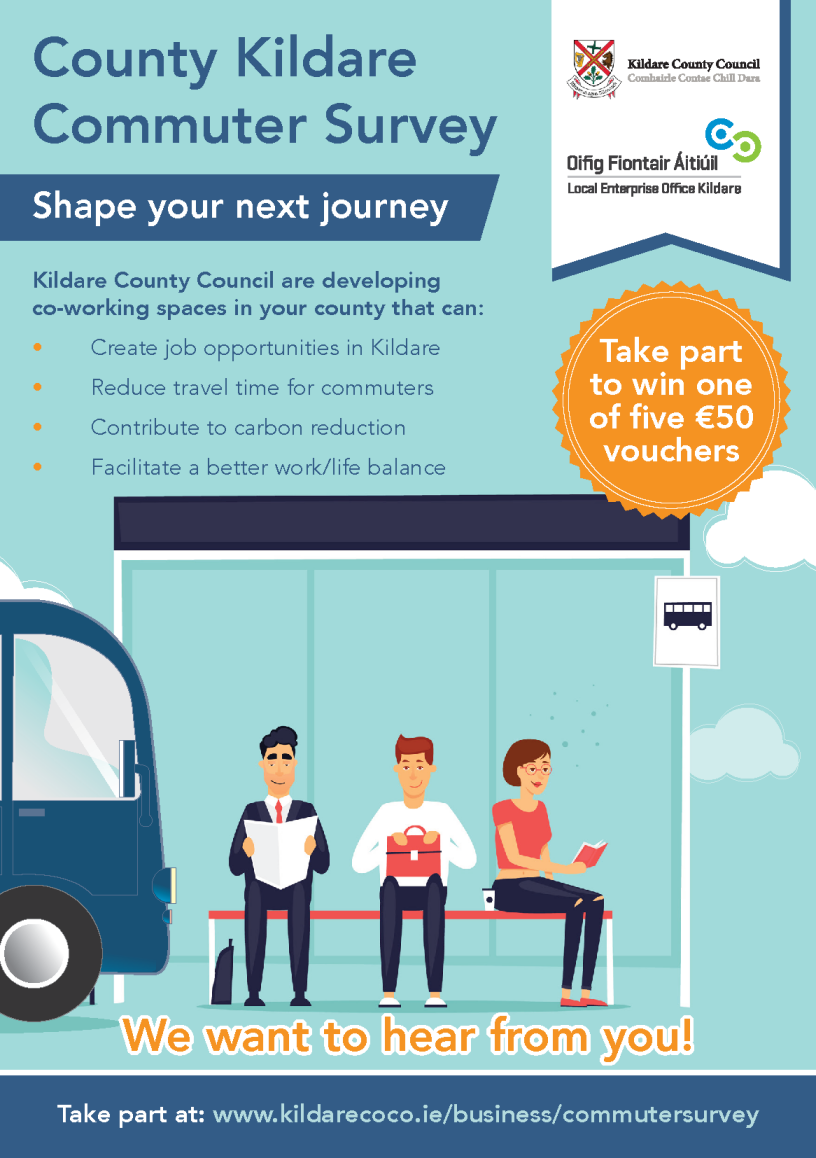 Kildare Commuter Survey
The improved economic circumstances have brought with it an increase in the number of people commuting into the greater Dublin region from Kildare. 2016 Census data highlighted the fact that Kildare has the sixth highest rate of outbound commuters in the State (39.1%). According to the census, 31,710 of Kildare's resident workers are employed in the Dublin Metropolitan area. The key outbound destinations are Dublin City (15,481) and South Dublin (10,593).
According to Census 2016, 14% of commuters in the Mid East region take between 60 and 90 minutes to get to work. This is twice the average percentage of people (7.8%) for the rest of the country.
Kildare County Council have commissioned this survey to gather the skills and educational profile of people leaving the county on a daily basis and to better understand the commuting patterns. The results of the survey will allow Kildare County Council to provide the state agencies and potential companies with the most up to date statistics on the talent base available thereby showcasing the attractiveness of the county and the region as a place to live and work.
As part of the Mid East Enterprise Plan 2020, Kildare County Council and their partners are developing co-working spaces in the areas of equine tech, tech and food in Kildare Town, Athy and Naas. When completed, these hubs will provide outbound commuters and start ups/entrepreneurs with the opportunity to relocate to a workspace close to where they live.
We want as many Kildare commuters as possible to take part. Have your say and be in with a chance to win one of five €50 vouchers.
Click the link below to take part.
https://www.sphinxonline.com/SurveyServer/s/INTERACTIONS2/INTR1930/questionnaire.htm
Any queries in relation to the survey can be directed to economicunit@kildarecoco.ie