Many of us are still getting used to the disruption of our daily routines caused by the spread of COVID-19 and the measures that have been introduced to help keep us all safe. Visit https://www.gov.ie/en/publication/c803e-managing-your-mood/ for full details on the Governments Kepp Well, Healthy Ireland Initiative For more support on minding your mental health during COVID-19, go to yourmentalhealth.ie.
HSE Health & Wellbeing
HSE Health & Wellbeing has launched a new, free, online mental health and wellbeing programme called Minding Your Wellbeing. This evidenced based programme, focusing on the promotion of mental wellbeing, has been adapted from a face-to-face programme into a series of online videos for everyone at this time.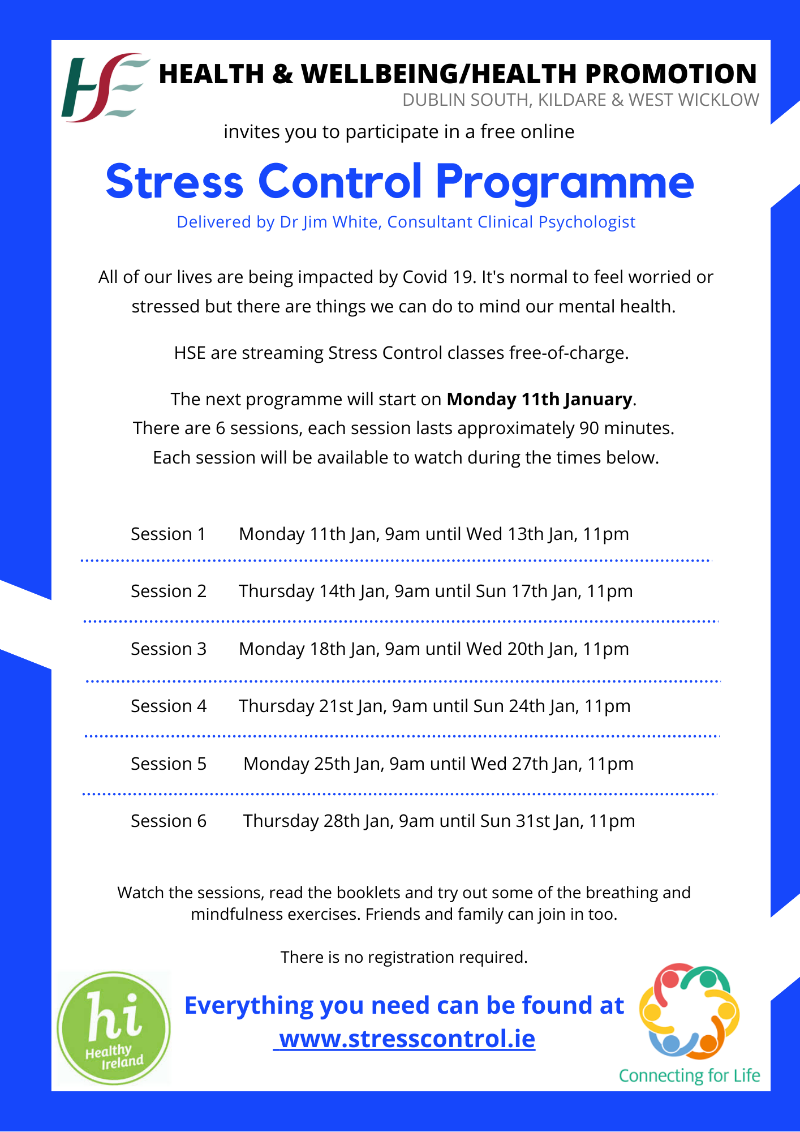 Kildare County Council has the following events and programmes available:
Notebook project - Capture your Covid experience
As the COVID19 crisis unfolded, Kildare County Council were keen to provide some positive pro-active projects that could engage and inspire citizens of the county, particularly those who are cocooning and older people. The ask? Sign up for an A5 moleskine project that will be delivered to your home. Fill it however you wish, capturing the COVID months in some way, and return it to us for digital scanning, to become a permanent archive for Kildare County Council, before the notebook is returned to the participant for keeping. Participants were advised that there was no 'right' way to complete the notebook - it could take the form of a written diary, notes, poems or stories, looking forward, or back, or reflecting on how it feels to live through these challenging times. A well as the digital archiving, there was a desire to somehow share the project with participants and the public in a safe manner, as a public exhibition of the notebooks is not appropriate at this time.
If you are living in County Kildare, are feeling inspired and would like to get involved, it's not too late to participate!
You can contact Lucina Russell lrussell@kildarecoco.ie and a notebook will be sent to your home.
Funding was secured under Creative Ireland's Positive Ageing and Creative Wellbeing Challenge Fund to create a documentary, with some of the older notebook participants, for online premiere screening on Culture Night, September 18th 2020 on Kildare Arts Service social media channels. You can view the film in the Youtube link below Recording a selected number of participants on the film, in their own home, talking about their notebooks will add another layer to the project. 7 participants have been selected from across the county. Thanks to Anne Doyle, Marian Egan, Philip Fitzsimons, Lydia A. Foy, John Geoghegan, Elizabeth Kemmy, Paul Sheridan for their generosity in sharing their notebooks and their stories. This film concept was created by Lucina Russell, Arts Officer who also produced the film on behalf of Kildare County Council. David Christopher Lynch directed, edited and coloured the film and was also Director of Photography
Wellness Video Series
Kildare Sports Partnership, in response to the Covid-19 Pandemic, developed a series of online video resources from persons within Kildare to highlight the importance of looking after one's physical and mental health. To view the video series – Click Here
Woodlands for Health – Thursdays at 10:30am (Closed Programme)
Woodlands for Health offers a recovery focused eco-therapy programme which complements traditional mental health treatment. It involves social inclusion of people who experience mental health difficulties. With the introduction of Level 5 restrictions, this programme now takes places weekly via Zoom. Woodlands for Health is facilitated in conjunction with Kildare Sports Partnership, Coillte, HSE & Mental Health Ireland. For more information on this programme, please contact deborah@countykildarelp.ie
Kildare Libraries Let's Talk About Parenting
The Let's Talk about Parenting Programme is a series of talks and workshops organised by Kildare Library Service with support from various agencies and organisations such as the HSE Primary Care Psychology Team, TUSLA Child and Family Agency, the County Kildare Childcare Committee, Foroige and is funded by Kildare County Council. Talks are designed to support Parents in their Parenting role but are also relevant to e.g. Healthcare Professionals, Teachers and anyone working with children. You can check out our Let's Talk About Parenting Vimeo Channel here.
Kildare Libraries Toys, Technology & Training (TTT)
The Kildare Libraries TTT project is designed to offer support to children and adults with learning difficulties, disabilities or more significant needs. Based in Athy, Leixlip and Naas Libraries, a specialised collection of toys and equipment is available and can be accessed free of charge in branches throughout the county and can be borrowed or utilised by joining up at any Kildare library. The series of talks and workshops for this year's Toys Technology and Training Programme has moved online. You can check out our TTT Vimeo Channel here.
Books to Relax & Distract
Recognising that we might all be looking for a little distraction over the coming winter months, libraries across the country in partnership with Creative Ireland are letting everyone know that a wealth of books for all ages and all interests are available through the library, and reading can be an excellent way to relax, escape, boost creative wellbeing or learn something new. Online library services, including free access to eBooks and audiobooks, will continue throughout all stages of the Government's Living with Covid-19 plan. All library members have access to these services completely free, and anybody can join online at www.librariesireland.ie or by contacting your local library.
Kildare Library Vimeo
Check out the Kildare Library Vimeo Channels for a range of videos on different topics.
Kildare Libraries Housebound Delivery Service
Following the announcement by government that the entire country was to love to Level 5, Kildare Library Service is providing housebound delivery service to library users who are over 70 or who are medically vulnerable.