A swim, two shoals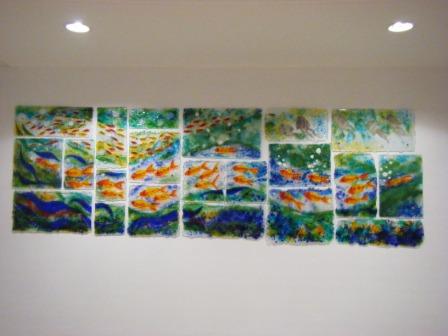 Project Title: 'A swim, two shoals'
Artist: Annabel Konig, commissioned under the Per Cent for Art Scheme for Kildare Sports and Leisure Services.
Public Art Co-ordinator: Rina Whyte
Year of installation: 2009
Medium: Fused Glass
Location: Naas Swimming Pool
About the artist:
'I am based in County Carlow and work from my studio there. I studied in Limerick, Cork and in NCAD, finishing up doing sculpture and photography. Along the way I have worked with many mediums but glass fusing was new to me until I worked on this project.
I have completed several other public art pieces in both Northern Ireland and in the Republic. I also exhibit 2d work extensively in both Ireland and abroad.'
About the project - Designing the piece for the Naas Sports and Leisure Centre allowed me to explore a new medium and it has given me the freedom to create a piece of work, for the public, without the restrictions normally associated with public art commissions. The adventure of a new medium, one such as fused glass, is huge for me.

I have always been interested in the underwater world and for the Naas Pool, I wanted to use the imagery of grace, speed and energy found underwater. The 2 shoals of fish that are within the image are teaching and learning from each other, a reflection on what might happen in the swimming pool that this piece has been commissioned for.' - Annabel Konig