Axis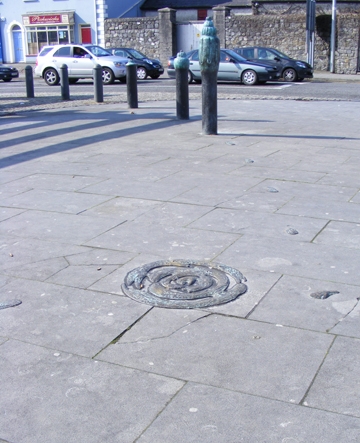 Project: AXIS
Name of artist: Austin McQuinn
Year of installation: 1996
Medium: Bronze
Location: Courthouse Square Maynooth
About the artist:
Austin McQuinn has several Public Art commissions by local authorities throughout Ireland, notably in Kilkenny, Kerry, Dublin, Wexford and Kildare.
He has exhibited widely both at home and internationally. His multimedia installations have earned several major awards including The Arts Council, Cork 2005 European City of Culture and his work appears in collections in Ireland and the US. Austin graduated from the Crawford College of Art, Cork, Ireland in 1989. His practice includes a broad range of media: painting, sculpture, film installation and live art performance. He has had several solo shows in Ireland including three at Project Dublin, at Butler Gallery of Contemporary Art, Kilkenny Castle and David Cunningham Projects, San Francisco. He was Irish artist in residence for the World Expo 2000 in Hannover and has been invited to participate in several Irish and
international group shows and festivals in Spain, France, Korea and China, Tasmania and the US.
About the artwork:
'AXIS' was commissioned by Kildare County Council for the renovation of Courthouse Square in 1996. The commission involved working closely with the Architect Denis Cogan on every aspect of the design of the site, including street furniture, paving, lighting as well as incorporating an artwork that integrated with the public dynamic of
the space. Beginning with the design of the bollards, the ideas for the sculptures emerged from discussions about the town as a constant source of growth for learning, spirituality, economics and community. Seven Bronze upright sculptures spiral out from a central bronze disc set into the paving, each piece appearing in a state of natural growth or change.