Famine Family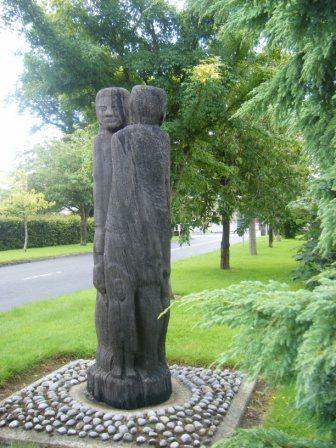 Title: Famine Family
Artist: James McKenna
Location:
The 'Famine Family' stands in the grounds of Athy Hospital, South Kildare.
History of the project
Commissioned by Kildare County Council, the sculpture was carved from 4,000-year-old black oak and stands 8 feet tall.
About the work
Through the hand of the artist, three graceful figures emerged from a huge piece of bog oak. The figures of father, mother and child reflect the human tragedy of the Irish people.
About the artist
James Mc Kenna (1993-2000) enjoys a huge reputation among his contemporaries. Alice Hanratty said of him that he was 'the finest sculptor of the last hundred – and maybe the last thousand years' while artist Michael Kane said that he was 'one of the five or six finest artists in the world'.
He lived in Co Kildare for the last year of his life. Though he made many small pieces, James tended to opt for monumentality. The life and artistic work of James Mc Kenna is filled with contradictions. The sheer scale and majesty of his sculpture suggest celebrity and complexity of character. His choice of subject matter, materials, and methods of execution suggest an unassuming and humble man and yet his gentle manner could all at once be consumed with passionate argument. It would appear that Mc Kenna existed on space and time, fuelled by a desire to create.