Fionn MacCumhaill and His Hounds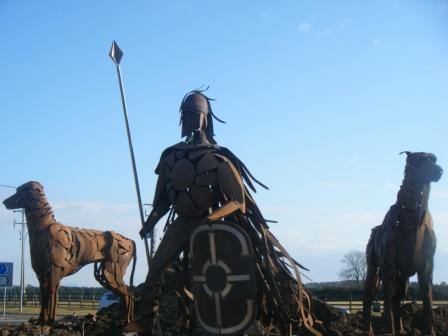 Name of Artist : Lynn Kirkham - Greenmantle
Name of Artwork : Fionn MacCumhaill and his Hounds
Public Art Co-ordinator: Rina Whyte
Date of Installation: 11th March 2010
Medium: Corten Steel and Stainless Steel
Location: Roundabout at Ballymany, Newbridge. Exit 12 off the M7
About the artist: Lynn Kirkham is a well commissioned artist who works in a variety of media. Her public artworks include pieces in bronze, scrap metal, steel, concrete and willow. Lynn works all over Ireland but has bases in Tipperary and Bere Island where she has recently set up 'Bere Metal'. Her artwork is always site specific and in response to location.
About the artwork: The commission gave the artist an opportunity to work large scale and to express her interest in Irish Folklore and mythology. As a hands on artist, she very much was directly involved in the construction of the sculpture, shaping and bending the metal pieces herself.
The sculpture came about following a consultation with Kildare County Council who wished to commission a significant landmark sculpture to celebrate Kildare's colourful history and folklore and the presence of the Military in the area since earliest times and up to the present day.
Fionn Mac Cumhaill and the Fianna are genuine historical figures whose deeds and life stories have been embellished through time, myth and legend. There are many tales of their acts of bravery and magic. They were hunters and warriors, the bravest, the swiftest, the strongest and made the wild places of Ireland their demesne. Fionn, their last leader, was larger than life and always accompanied by his two hounds, Bran and Sceolan, who were actually his nephews transformed into hunting dogs by evil sorcery.
The Hill of Allen was the home of Fionn MacCumhaill and the headquarters of the Fianna, it can be seen from the site of the sculpture.
Fionn and his Hounds are a powerful symbol of strength and protection and they now stand guard once again in County Kildare.