Ford of Ae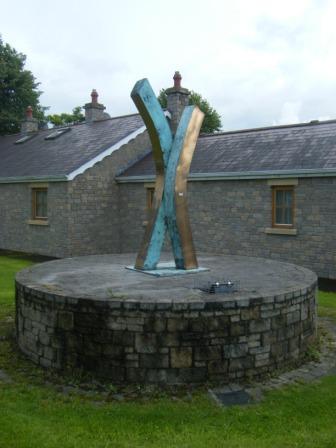 PROJECT: 'Ford of Ae'
ARTIST: Jarlath Daly
YEAR OF INSTALLATION: 2001
LOCATION: Athy, Co Kildare.
MEDIUM: Bronze
SIZE: 11 Feet high
ABOUT THE ARTIST: Jarlath Daly is specialist in bronze sculpture based in Kildare. Jarlath Daly was born in Tipperary, Ireland in 1956. Since graduating from Limerick School of Art in 1979 Jarlath has been creating bronze sculptures for both private and corporate clients. His sculptures both figurative and abstract range in scale from 10 inches to 30 feet. The theme of sport is evident in the majority of Jarlath's work and many of the main sporting organisations rely on him to provide bronze awards.
Many of Jarlath's large scale works can be seen throughout Ireland and these artworks generally reflect public attitudes, local themes and legends. On receiving a commission the sculptor likes to work with local groups, collating their interests, views and experiences and then transferring their response into artistic experience which enhances the environment.
The materials Jarlath uses are of a durable nature require little maintenance and are safe for the public.
Jarlath also responds to the many demands for unique bronze presentations. Working with the client at the brief stage Jarlath presents concepts in sketch form, and on approval of same proceeds to create the sculpture. The average time to complete the required work from the initial briefing stage is eight weeks.