Garden of the Blue Dog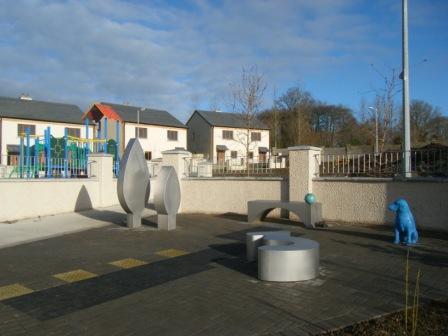 Project: 'Garden of the Blue Dog'
Artist: Declan Breen, commissioned under the Per Cent for Art Scheme
Public Art Co-ordinator: Rina Whyte
Year of installation: 2008
Medium: Stainless Steel and Bronze
Location: Coolaghknock Glebe, Kildare
About the artist:
Declan Breen is a Wexford based Sculptor, he graduated from The National College of Art and Design in 1979. Declan returned to Wexford in 1983 and was prominent in the setting up of the Wexford Sculpture Workshops where he had a studio until 1995. His work has been exhibited extensively throughout Ireland, commissioned works include site specific sculptors for The 1798 Centre, Enniscorthy, Co.Wexford, Belgooly, Co.Cork, Clifden Co. Galway, Waterford Regional Hospital and Per Cent for Art works for many County Councils throughout the country.
About the project – from the artist:
My work unfolds horizontally and deals with the interrelationship of objects within a given space; it also invites interaction from the viewer as they move through that space, it becomes a synthesis of the placement of objects, design and the use of materials to enhance and define the qualities of the site, a means of turning space in place. When you move through and occupy a defined space, you become the subject matter of the sculpture. People being in the space with the objects complete the artwork.
'Garden of the Blue Dog' evolved out of memory, memories of illustrations from storybooks, the making of things out of blocks, spaces that allowed you to create your own stories. The sculpture consists of:
- A stainless steel bench in the shape of a bridge where people can sit, meet, talk or just 'hangout'.
- The garden element in reinforced by the stainless steel 'trees', the same goes for the No. '3' which also functions as a bench but is not as high as the bridge to accommodate shorter legs!
- The bronze dog is a symbol of domesticity and also watches and protects as it looks towards the playground.
- The bronze teddy bear on the ground at the back of the bench counteracts the formality of the layout of other objects, it's a moment's carelessness, when something is dropped and left behind, evoking human presence.
- The sphere is in many ways the key to the layout of the piece; everything revolves around that point in a circular motion.
- The dark grey paving might represent a river flowing under the bridge while the yellow squares could be stepping stones. The paving pattern also evokes musical allusions – instruments.