Home: Portraits from Clocha Rince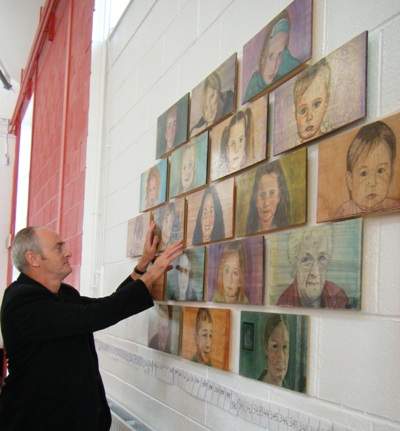 Project: 'Home: Portraits from Clocha' Rince' - paintings of the residents from Ard Carraig, Clocha' Rince

Artist: Christopher Banahan as part of the Per Cent for Art Scheme
Public Art Co-ordinator: Rina Whyte

Medium: Paint on board
Location: The pieces will reside with the residents in Clocha' Rince

About the project - from the artist:
I proposed to create an art project that would involve and benefit the Ard Carraig residents, in Cloche Rince. Rather than creating a large monumental art work (that after a short period of time could become anonymous and overlooked), l have attempted to create 'intimately scaled' art works for all the participating households in the community, where each artwork reflects the tenants that reside there, by way of a portrait.
Each portrait is approximately the size of a brick and hopefully will be placed in different 'intimate' areas of their households. This will give each house its own unique individuality.
At the beginning of the project, I began to photograph willing members of the community, but was fortunate enough to gain the assistance of Elaine Mc Crossan. Elaine, resident of the Ard Carraig community, was able to capture wonderful intimate photographs of her neighbours. Her images reflected the 'insiders eye' into the private world of many of the residents.
I believe the artwork enhances the local environment in a unique way, portraying the internal personality of the community, negating a particular ' sense of place' (this will become clearer through the passage of time, as future generations would be able to see the past tenants that once resided there). This would add to the character of the house. The portraits would act as a ' time capsule ', or a testament in remembrance of todays residents, to future generations in Ard Carraig.
The exhibition at the end of the project is a great way for the residents to share a moment together, and hopefully to build up new friendships, and also to meet the artist. l look forward to seeing the reactions to the portraits.
The whole experience of getting involved with the Cloche Rince Community and attempting to capture their portraits has been very rewarding and enlightening for me. I would like to thank Kildare County Council for allowing me the rare opportunity to carry out such an unusual project. l would also like to thank the Cloche Rince residents for allowing me to portray them in this intimate manner.