Liffey Court Name Stone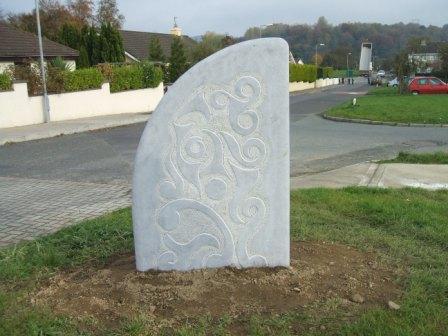 PROJECT: ' Liffey Court' Name Stone
ARTIST: Aileen-Anne Brannigan
YEAR OF INSTALLATION: 2006
LOCATION: Ballymore Eustace, Co Kildare
MEDIUM: Kilkenny Limestone
DIMENSIONS: 1200mm high X 800mm wide X 150mm thick
This Name stone has one curved side and all edges are softly rounded, the name of the housing estate LIFFEY COURT is carved in an uncial style letterform this estate is an add on of just three houses to an older original housing estate.
As it contains just three houses I decided to carve a triskele which is a celtic knotwork panel containing three spirals, on the front of the stone. The reverse of the stone has pattern carvings similar to la Tene style carving found on the Turoe Stone.
I also created three smaller number stones to place at each individual house the numbers being 19, 20, & 21 these each had a single spiral carved on them. The residents were delighted with this personalised approach and felt it brought unity to the project.
About the artist:
AILEEN-ANNE BRANNIGAN
Sculpting, Carving & Lettercarving in Stone
Born in Kilkenny (The Marble City) in 1964
Aileen-Anne Brannigan is an Artist that works exclusively in stone.
She is married has two children and lives on Ossory hill overlooking Kilkenny City where she works to commission from her studio workshop.
Sculpting, Carving & Lettercarving in Stone the permanence of this work demands expertise commitment and involvement to each discipline. The hands-on creative aspect to this work makes it both challenging and rewarding.
Inspired by the limestone architecture of her native city and the ancient art of high cross carving she began a voyage of discovery which initially involved learning the craft of stonecutting in the traditional time honoured way of serving an apprenticeship.