Little Things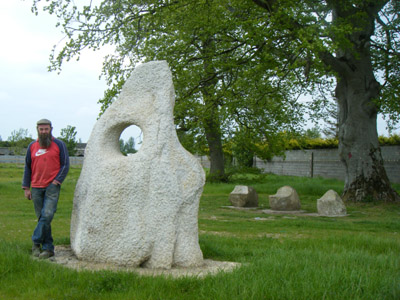 Artist: Niall Deacon
Year of Installation: October 2006
Location: Rathangan Housing Estate
Medium: Granite
Size: Height 280 Cm Width 200cm Depth 110cm – 4 pieces
Inspiration: 'From tiny acorns mighty oaks grow'
Commission: Kildare County Council
Artist's Statement:
The opportunity to enhance this open space with the concept of 'little things do matter', taken from the statement 'from tiny acorns, mighty oaks grow'.
The mature trees and vast open space, where the piece could be viewed from all three sides were what spawned the inspiration for this piece.
About the artist:
From Enniscorthy, a self-taught stone carver, under the instruction of Dick Joint, Niall Deacon is inspired by the placement of his work in rural and open spaces. His passion is in granite boulder, roughly hewn.
Previous Commissions:
Memorial Park – Rosslare Harbour Environment, Co.Wexford 2005
Primrose Gate, Celbridge, Co.Kildare 2005
Sculpture in Context