Pause for Thought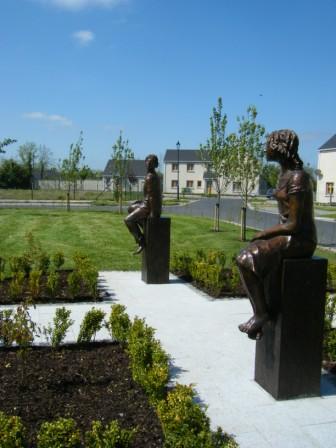 Project: 'Pause for Thought'
Artist: Catherine E Greene
Public Art Co-ordinator: Rina Whyte
Year of Installation: 2009
Medium: Bronze
Location: Ann Street, Prosperous, Co.Kildare
About the artist:
Catherine E Greene is a well established artist based in Castledermot, Co.Kildare.
About the piece:
'Pause for Thought' is a figurative piece of two parents watching over their children as they play in the field. The garden element was introduced to create a restful space for the residents of Ann Street, Prosperous to meet and enjoy some peaceful time.
The residents of Ann Street were instrumental in getting this piece installed, their children helped Caragh Nurseries with the planting and maintenance of the garden during the summer months.