Synthesis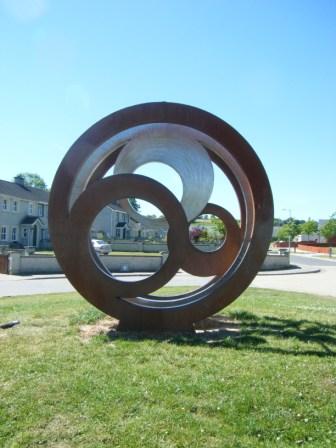 Project: 'Synthesis'
Artist: Ned Jackson Smyth
Public Art Co-ordinator: Rina Whyte
Year of Installation: December 2007
Location: Ballitore
Medium: Corten steel and stainless steel
Size: 2.5 m diameter
Artist's Statement:
"The aspect of public art holds great professional and personal interest for me; I enjoy the challenge of public spaces, the communities that use them and the interaction of the concept within that space.
About the artist:
Based in North of Ireland, Ned has been working in the area of public art work for a number of years.
He graduated from The University of Ulster Fine & Applied Arts. He has been practising as a professional artist since and has extensive experience in exhibiting works, undertaking commissions within both private and public sector, residencies, lecturing within private and educational settings.
He has been commissioned by a number of public bodies to create public artworks and has exhibited nationally and internationally, in Ireland, the UK, Europe, Russia, Brazil and the U.S.A.