The Hitch Hiker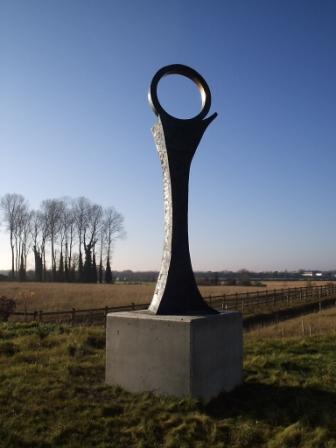 Project: 'The Hitchhiker'
Artist: Willie Malone
Year of installation: 2005
Location: Heath Mayfield Motorway
Medium: Phosphor bronze
Size: weighs over 1 ton
It stands 12ft high on a 3ft high base
Artist's Statement:
I have been modelling sculpture and casting bronze since the 80's and I run Kilmainham Art Foundry Ltd T/A Irish Bronze. The Foundry is at Griffith College and I have a studio for modelling and moulding etc on Inchicore Rd.
This work in bronze is to do with roads and the movement of people and goods. The sculpture approx. 12ft high and on a 3ft high plinth is intended to represent the arrival of the wheel.
There are many references to chariots in the annals. For example, in The Book of Dun Cow c1106, the story of The Conception of Cuchulainn mentions Conchobor at Emain Macha with his nine chariots and charioteer daughter Deichtine. As yet archaeology has not found an example in Ireland. However, across in Scotland near Edinburgh, in an iron age grave and found with the occupant, was an intact chariot. The earliest example is from Mesopotamia and is believed to be 5,500 years old.
The work has a 9ft body representing the time when man was using sleds and wooden rollers for transporting, leading to the cognition of the wheel in the 3ft circular head. The sculpture attempts to show this using the contrast between the irregular form of the torso and the strict symmetry of the wheel.
The inspiration for the piece I suppose is centred on the arrival of the
wheel and the gradient leading to the initial cognition.
The Hitch-hiker is a time traveller.