‌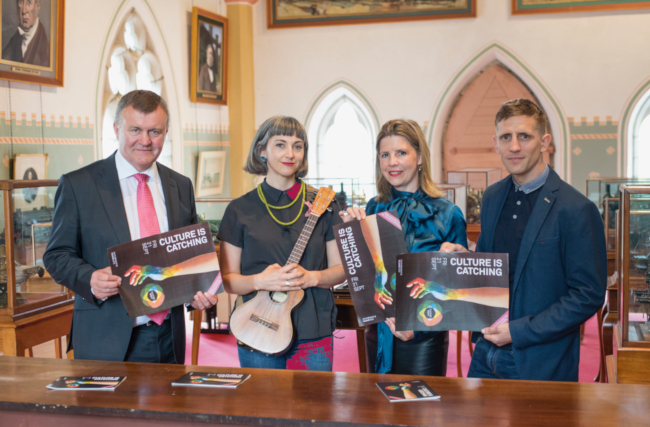 Kildare Culture Night 2018 programme launched‌
Mayor of Kildare, Cllr. Seán Power and Arts Officer for Kildare County Council, Lucina Russell recently launched the Kildare Culture Night 2018 programme at the Steam Museum & Lodge Park Walled Gardens, Straffan.
The Mayor warmly welcomed Kildare Culture Night Ambassadors 2018, Inni-K and Eric Donovan, noting that both Kildare natives had excelled in their respective fields of music and sport. He said he looked forward to attending some of the 94 events taking place across the county. The Mayor congratulated all of the individuals and organisations who participate and warmly embrace the Culture Night initiative, now in its 9th year in Kildare.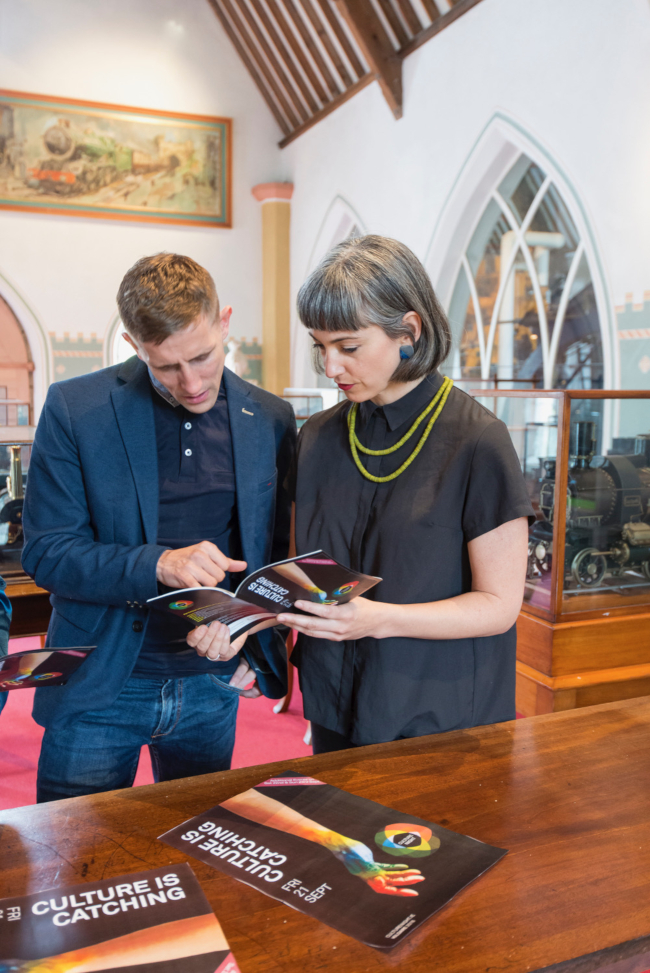 Inni-K (Eithne Ní Chatháin) grew up in Kilcock, Co. Kildare. Her mesmerizing vocals set off with tight musicianship and captivating stage presence creates a musical experience, rich with spine-tingling tenderness.
She is a now well established presence in Irish music, received consistent praise for her distinct, fresh style of indie-folk since the release of her acclaimed debut album The King has Two Horse's Ears' in 2015 & most recently her new single 'Edges' released earlier this year.
Inni-K's folk background is always recognizable but clearly here is an artist not afraid to explore into new musical territories. Following a summer of Irish festivals, including Body & Soul, Another Love Story, Earagail Arts Festival, Arcadian Fields; with New York, European & Irish dates in the pipeline for later in the year and 2019; Inni-K is busy preparing for her next album which is due for release in 2019. According to Inni-K,
'It is a great honour & privilege to be asked to be Kildare Culture Night Ambassador this year. Culture Night is a fantastic celebration & bringing together of all the culture, creativity & art that happens throughout the county, which enrich our lives in priceless ways. I have travelled the world over with my music, and it is a lovely thing to be asked to be a cultural ambassador to my home county where I grew up in Kilcock. Get out & celebrate what's happening on your doorstep on Fri the 21st September for Kildare Culture Night 2018!'
Eric Donovan is Kildare's former Irish international amateur boxing star and is currently an undefeated professional boxer. Eric 'Lilywhite Lightning', grew up in Athy and returns as Culture Night Ambassador this year, given his warm enthusiasm last year.
The five-time Elite Irish champion has won national titles from Bantamweight through to Lightweight.
Donovan runs a successful boxercise and fitness business and is a boxing analyst, most recently contributing to RTE's boxing coverage at the Rio Olympics.
Reflecting on his role last year, Eric said that
'The role of Ambassador really opened my eyes to all that is going on across the county. It was great fun and I really enjoyed trying out new things - noting that the uni-cycle workshop as part of the C-Circus-K project was a challenge. I'm thrilled to be Culture Night Ambassador again and excited to work alongside the organisers to promote and support the artists, arts communities and volunteers county-wide.'

For further information on Culture Night Kildare
Contact: Federica Petronilli, Kildare Culture Night Coordinator
Address: Kildare County Council Arts Service, Riverbank, Newbridge, Co Kildare
Tel: 045 448328
Email: culturenightkildare@gmail.com
Web: www.culturenight.it ; www.kildare.ie/culturenight
Facebook: Arts in Co Kildare
Tw: @ArtsInCoKildare #LoveCulture
Download - Kildare Culture Night 2018 List of Events
Download - Kildare Culture Night 2018 List of Events Large Text
Culture Night is brought to you by the Department of Culture, Heritage and the Gaeltacht and the Creative Ireland Programme in partnership with Kildare County Council.
An Roinn Ealaíon, Oidhreachta agus Gaeltachta a dhéanann comhordú ar an Oíche Chultúir, i gcomhpháirt le Comhairle Chontae Chill Dara