Kildare County Council Awards Engineering and Environmental Services Contract for Athy Flood Relief Scheme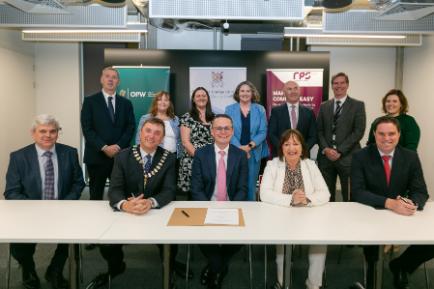 5th October 2023: Kildare County Council has today confirmed that the Consultant Engineering contract for the development of an Athy Flood Relief Scheme has been awarded to RPS Consulting Engineers. The successful consultant has been appointed following an extensive tender process.
The Athy Flood Relief Scheme project aims to alleviate the risk of flooding to the Community of Athy and is being developed following the completion of the South-Eastern Catchment Flood Risk Assessment and Management Study, which identified Athy as an area for further assessment (AFA).
The Engineering and Environmental Consultancy services, which are funded by the Office of Public Works (OPW), will identify, and design a Flood Relief Scheme that is socially, environmentally and economically acceptable, to alleviate the risk of flooding in the Athy area.
Welcoming the announcement, Sonya Kavanagh, Chief Executive, Kildare County Council said; "We are delighted to reach this important milestone for the development of a Flood Relief Scheme for Athy and thank the OPW for their ongoing commitment and support for the delivery of this vital flood relief infrastructure in Kildare. We look forward to continuing to work closely with the team at RPS Consulting to deliver the important design concept for this important scheme.
Speaking about the project, Minister of State with responsibility for the Office of Public Works (OPW), Patrick O'Donovan, T.D., said; "This is an important investment for the town and will provide protection to some 100 families and businesses. They and the public can be assured that there will be extensive public consultation as the Scheme progresses during the design stage. We will work closely together with RPS Consulting Engineers Ltd to progress this design of this Scheme and to make sure it will be adaptable to continue to provide protection against today's flood risk and the growing risk from climate change into the future".