Kildare County Council Announces Exciting Line-up for Culture Night 2023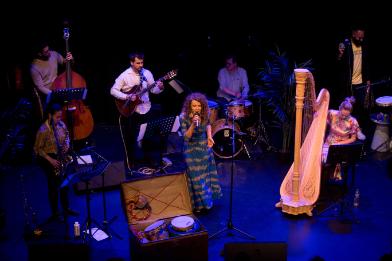 6th September 2023: Kildare County Council is pleased to confirm that Culture Night will take place on Friday 22nd September 2023 from 4pm till late.
Culture Night is an annual island-wide public event that shines a light on all aspects of culture, creativity and the arts. On this night, doors are open late and all venues and events are available to the public free of charge. This year's Culture Night, with the theme 'One Night for All' will offer the opportunity for audiences to once again celebrate and fully engage with in-person cultural events and to benefit from the pleasure and rewards they bring to all of us.
Each year thousands of groups and individuals participate in Culture Night the length and breadth of Kildare. Over the last few months, we have been delighted to receive applications from all over the county from those who want to share their talent, culture, creativity and interests, on Friday 22nd September. This year's programme showcases the diversity of arts and culture in Kildare and offers a programme that fosters openness and encourages participation, valuing equality, inclusion, accessibility and diversity. One Night for All!
CULTURE NIGHT COMMISSIONS
For the county's Culture Night celebrations, Kildare Arts Service has commissioned a number of exciting projects, across art forms and across the county.
In Celbridge, Down at Heel Productions present Martina Murphy's play 'The Also Serve…'. A madcap, theatrical voyage through Kildare rebel John Devoy's life in Tea Lane Graveyard. In Naas, Darn Skippy's 'PLAY' will take you through the hidden backstage areas of The Moat Theatre in their immersive journey through Shakespeare's 'Hamlet', with ghosts of rehearsals past. Kildare Art Collective will present a group exhibition of their members' work called 'Palimpsest' in Swift Supplies/Jingles, Newbridge. Mothers Artists Makers (MAM Ireland) take to the mic with new writings and songs in the ARAS (Abbey Regional Addiction Services), Newbridge. In Athy, join Kasia Eliasz for 'Earthing', an experimental music project exploring the sounds of climate change in Athy Community Arts Centre. In the same venue, later in the evening, Capella Productions and ADMS presents 'Anyone Who Had a Heart', a night of Burt Bacharach songs performed by the next generation of talented local singers. Visitors are invited to join artist Cathy Callan to make a large-scale collaborative art work called 'Here's Looking at You' in the Irish Wheelchair Association, Athy.
FULL PROGRAMME AND SOCIAL MEDIA
The full programme of events and participating venues for Culture Night Kildare 2023 will be available on culturenight.ie/kildare
Join the conversation on Kildare Arts Service Social Media Channels:
Facebook: Arts in Co Kildare, @kildareartsservice
X: Kildare Arts Service, @ArtsInCoKildare
Instagram: KCC Arts Service, @arts_in_co_kildare
YouTube: Kildare Arts Service
For enquiries, please contact Culture Night Kildare Coordinator, Sheena Malone at culturenightkildare@gmail.com, or phone +353 (0)45 980872; mob: 087-2399212.
Culture Night is brought to you by the Arts Council / An Comhairle Ealaíon, in partnership with local authorities and cultural organisations throughout the island of Ireland.