Kildare County Council Awarded Two Green Flag Awards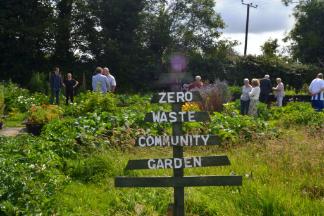 Kildare County Council have been awarded two Green Flags for Liffey Linear Park in Newbridge and Zero Waste Community Garden in Rathcoffey. The 2022 Green Flag Awards were announced today by An Taisce Environmental Education, acknowledging Ireland's best public parks and gardens.
This is the 6th year running that Newbridge Linear Park have been awarded a Green Flag and the 3rd year for Rathcoffey Community Garden.
The Green Flag awards are the international accreditation standard for parks and green spaces. It operates across Australia, Belgium, Finland, France, Germany, Mexico, The Netherlands, New Zealand, Portugal, Republic of Ireland, Spain, Sweden, Turkey, United Arab Emirates, United Kingdom, and the United States of America.
This signifies the level of work accomplished by Kildare County Council to provide recreational amenity facilities to a recognised international standard in Kildare. It also reflects the huge voluntary work and commitment by Newbridge Tidy Towns and Rathcoffey Zero Waste Garden Committee on both Green Flag sites.
The Green Flag Awards are judged every year by a peer jury of green space experts, who volunteer their time to visit applicant sites and assess them against eight strict criteria, including horticultural standards, cleanliness, sustainability, and community involvement. It aims to encourage the provision of good quality public parks and green spaces that are managed in environmentally sustainable ways.