Kildare County Council confirm nominees in the 2023 IPB Pride of Place Competition
03 November 2023: Kildare County Council is delighted to confirm our three Kildare nominees in the 2023 IPB Pride of Place Competition. The IPB Pride of Place Awards acknowledge the work being done every day by communities throughout the island of Ireland. The national winners of this prestigious competition will be announced at the Gala Awards ceremony in the Armagh City Hotel on Friday the 10th of November.
The IPB Pride of Place Competition celebrates unsung community heroes and their voluntary work. These groups make a significant difference in the places where they live, inspiring friends and neighbours to get involved and improving the lives of all in their community. It is known affectionately as the "Community Oscars".

Kildare County Council has supported this competition for several years and have nominated three inspirational groups for their efforts in 2023:
Ballymore Eustace Community Development Association – Age Friendly Category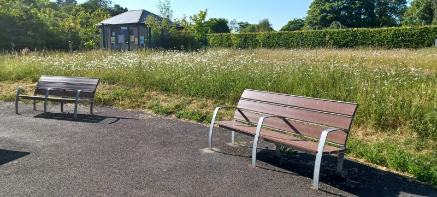 Ballymore Eustace is a small Village set in the East Kildare Uplands, on the river Liffey, and close to the Wicklow border in an area of outstanding natural beauty. The Village on the R411, 11km from Naas. It has a current population of 1574 (Census 2016).
Ballymore Eustace Community Development Association (CDA) is the oversight committee which plays a major role in the development of the Village. As a limited development company and charity, the CDA provides oversight for Tidy Towns, Ballymore Eustace Sustainable Energy Committee (SEC), Ballymore Eustace for Environmental Sustainability (BE4ES) amongst others. Formed in 1996, the CDA now owns several important assets including a river walk, a community resource centre, a tidy towns hub and a 1.5acre site with planning permission for a playground, skate park and multi-use community facility.
Ballymore Eustace is working towards being the first age friendly and climate friendly village in Ireland. An exemplar - combining the needs of older residents with good climate, sustainability, and biodiversity actions. Ballymore Eustace has led the way in working with the Age Friendly Team in Kildare County Council. A national grant was awarded to make the River Walk more accessible and safer for all, in a way that compliments the natural environment and provided new tree planting along with Age Friendly seating.
All aspects of work now come from an age friendly model where Ballymore Eustace CDA foster a sense of community, engagement, and empowerment to make Ballymore Eustace a wonderful place in which to grow old.
Newbridge Women's Shed – Wellbeing Category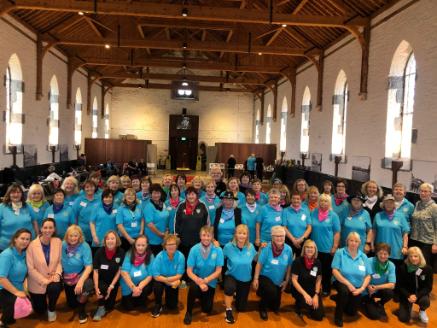 NWS was founded in April 2022 and currently has 100 members ranging in age from 45 to 90 who work together to share and learn new skills. The shed was showcased on Nationwide and Dancing with the stars. Activities include dragon boating, yoga, tai chi, Pilates, self-defense, fit sticks course, bake offs, exercise classes, aqua aerobics, DIY courses and much more. Several of the members continue to teach line dancing, Irish dancing, and ballroom dancing on a weekly basis. In keeping with the musical theme, the Shed have also set up their own band.
Newbridge Women's Shed is going from strength to strength because it is a place where all women are embraced with a kind and caring attitude where fun and laughter are incorporated into all activities and helping one another is effortless. This shed has improved the wellbeing of all who attend.
Maynooth Access Group - Creative Places Category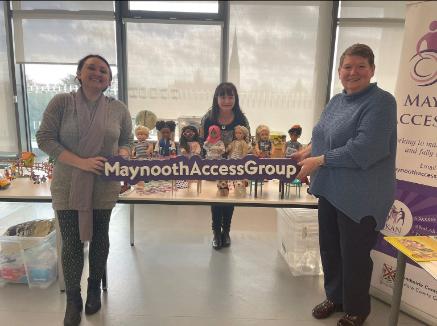 Maynooth Access Group create conditions of inclusivity through their "Our World", program. It is a sustainable lending /educational resource, consisting of a collection of diverse and inclusive toys and accessories.
Groups use this resource to deliver disability awareness workshops, hold exhibitions and stay-and-play sessions. The resource is used by all, helping to teach children acceptance, normalising difference, and promoting empathy and compassion, ultimately leading to a more inclusive society.
This provides everyone with the perfect opportunity to start a playful discussion about disability. Having conversations in neutral creative spaces enables them to ask questions and encounter new perspectives, allowing them to gain a greater awareness and understanding of disability. Through play children become so immersed in that creative space that disability is not the focus of their play, but rather becomes just another variation of normal. When disability is normalized during play, it is normalized in real life, too. This project enables all spaces to become creative places where everyone is valued and belongs, and diversity is seen as enriching.
Kildare County Council would like to wish our three finalists the very best of luck in the upcoming awards.