Kildare County Council Launches New Anti-Dog Fouling Initiative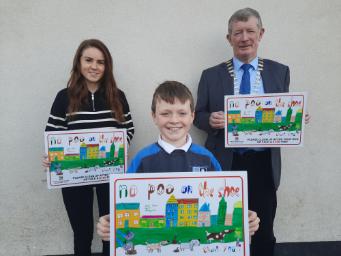 Thursday 1st December, The Cathaoirleach of the County of Kildare, Cllr Fintan Brett, launched a new anti dog fouling initiative in Rathmore National School.
Following a schools poster competition run by Kildare County Council encouraging pupils in every Kildare primary school to design a new sign reminding dog owners to clean up after their pet. The winning entry was designed by a fourth-class pupil in Rathmore National School, Cian Browne. The winning design has now been turned into signs that are made available to community groups to install at key locations to raise awareness at local level.
Presenting Cian with his prize of a book token. The Cathaoirleach of the County of Kildare congratulated Cian on his eye-catching design stating that "we need a range of different approaches to dealing with the ongoing problem of dog fouling. Cian's sign really catches the eye and will encourage dog owners to do the right thing. It is great to see our young people using their talents to address local environmental issues."

Kildare County Council's Environment Awareness Officer, Dara Wyer said "Cian's sign is one of a number of measures we are taking to raise awareness about this problem. The council is keen to encourage dog owners to take positive action, the idea is to promote responsible dog ownership and encourage them to pick up after their dog, bag the waste and safely bin it. The council has installed several audio or visual (LED) devices at key locations in the Municipal Districts to remind owners to clean up after their pet, and we encourage people to use any bag, any public bin."