Kildare County Council Publishes 2021 Annual Report
Over €2m in grant funding awarded to Businesses
952 housing units provided for individuals and families across Kildare
53 arts grants awarded across 18 different grant opportunities in 2021 supporting local artists and arts organisations
€1.6m awarded in community grants, supporting over 1,000 initiatives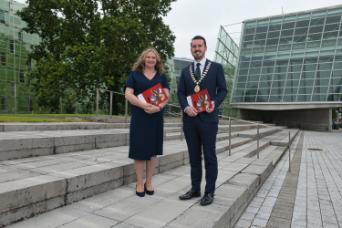 Friday 24th June 2022: Kildare County Council has today published its Annual Report for 2021, giving an overview of the Council's programme of work delivered in 2021.
Maintaining essential services and providing additional supports was a priority for Kildare County Council in 2021, operating against the backdrop of the ongoing Covid 19 pandemic, and the challenges it presented. The 2021 Annual Report also highlights some the innovations, creativity, and learnings from the pandemic as well as the changing landscape and environment in which Kildare County Council operates. Significant changes in the lifestyles of citizens and the operations of businesses across the county, which emerged last year, in areas such as blended working, increased use of outdoor spaces, community development, infrastructure and more, were areas of focus for Kildare County Council in 2021
2021 Annual Report
Lockdowns and increased time spent outdoors highlighted the need for greater use of our Public Realm and outdoor community spaces. In 2021, Kildare County Council invested significantly to fund the development of many pilot spaces within our towns, some of which will now progress to permanent redevelopments.
Community engagement also played a major role for Kildare County Council in the development of our outdoor spaces. Initiatives such as events along the Greenways in the County served to promote active travel and raise awareness of our Greenways and open spaces in the County.
These improvements and innovations will deliver many benefits for years to come.
Supporting Businesses
Businesses in Kildare faced further and increased challenges in 2021. Kildare County Council continued its steadfast support with additional supports and services. Almost 400 funding applications were awarded in 2021, totaling over €2m for areas such as shopfront improvements, start-up/expansions, web development and more.
In addition, over 4,000 clients availed of LEO training programmes during the same period, in areas such as digital marketing, finance and IT
Environment & Climate Action
Kildare County Council continued to work on raising awareness and enforcement of waste management and litter prevention as well as the development and delivery of climate action projects in 2021.
A new awareness campaign reminding every household and commercial premises in Kildare of their responsibility to be waste compliant was launched along with other initiatives such as the 'Green Kilometre Scheme', in which over 80Km of rural roads in Kildare were cleaned up.
The Council hosted Kildare's first 'Climate and Energy Week in 2021, a full week of events focused on a range of climate action and energy awareness topics to build awareness and understanding of our energy and climate action responsibilities.
The Community Climate Action Programme, funded by the Climate Action Fund, will see €60 million invested in community climate action projects, initiatives, and capacity building, over the next three years. It will be rolled out in two phases with €30 million allocated for the first phase.
Housing
The delivery of social housing as well as important work in the areas of homelessness, vacant and derelict properties, housing loans and grants continued to be a focus in 2021. A significant programme of work to deliver housing units was progressed throughout the year and with build, acquisition and leasing programmes, a total of 952 units were delivered across these programmes for individuals and families in Kildare.
Major Roads Infrastructure
A number of major infrastructure projects were delivered or continued to progress at pace throughout the year, including the opening of the Sallins Bypass which has provided greater accessibility to and from the M7 to Naas, Sallins and environs since opening.
Elsewhere, the new Athy Distributor Road project got underway, and the new Maynooth Inner Relief Road with new bridge over the Lyreen River was completed and opened to traffic in December.
Community, Arts & Culture
Kildare County Council awarded over €1.6m in community grants in 2021, supporting over 1,000 different initiatives across the county, including the community enhancement programme, private estates residents' associations, festival grants, education bursaries, social enterprise funding and much more.
The countywide integration strategy was launched in 2021 aimed at supporting the inclusion of people from ethnic minorities and new communities living, working, or studying in Kildare. The strategy was developed in collaboration with County Kildare Leader Partnership and the Kildare Integration Network following consultation with key agency stakeholders, member groups, the diverse migrant population in Kildare and local representatives.
Sonya Kavanagh, Interim Chief Executive, Kildare County Council said; "The Covid 19 pandemic presented significant challenges for the citizens, communities, and businesses of Kildare. Providing and maintaining essential services was a considerable challenge for Kildare County Council in 2021,but we are very proud of the work done by the staff and elected members in ensuring the delivery of essential services and supports."

"I'd like to take this opportunity to acknowledge the innovation, empathy and resilience demonstrated across the county, despite these challenges."

Speaking on the final day of his term as Cathaoirleach of the County of Kildare, Cllr Naoise O Cearuil, said; "As we emerge from the pandemic, this Annual Report provides us with the opportunity to look back on the work of the Council over the past year. We have seen the resilience of our communities and how we support one another in the most difficult of times. The staff of Kildare County Council and the elected councillors played an important role in supporting the citizens of this County."

"Critical services were delivered despite the pandemic, and we saw the Council take an increased role in emergency responsiveness."

"I look forward to seeing our County continue to thrive in the future" he concluded.
Kildare County Council's 2021 Annual Report is available to view here - https://kildarecoco.ie/YourCouncil/Publications/