Kildare County Council to host National Play Day 2023
A free family event to take place at Aras Chill Dara, Naas Saturday 16th September 2023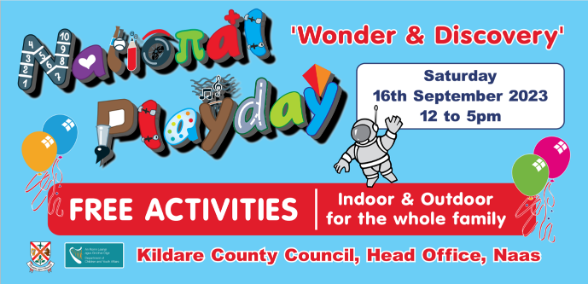 Kildare County Council is delighted to announce details of National Play Day 2023, which promises to be a fun-filled and inclusive event suitable for every member of the family. This free family event will take place at Aras Chill Dara, Naas on 16th September from 12pm – 5pm. The event is organized by Kildare County Council in conjunction with the Department of Children, Equality, Disability, Integration & Youth.
The theme for National Play Day 2023 is 'Wonder and Discovery', chosen to represent the wonder and discovery that unfolds when children play outside. Access to outdoor play means children have many opportunities for developing their imagination and physical abilities, playing in nature also presents opportunities for exploration and adventure.
Kildare County Council along with volunteers, workshop facilitators, entertainers and emergency services will deliver an exciting and engaging fun filled day, including live stage acts and over 30 activities held both indoors and outdoors including attractions for all age groups. It offers accessible features such as a quiet entry and wheelchair friendly access, sensory suite and accessible toilets.
The event which has been running for 10 years always attracts a large crowd, so we're looking forward to another busy day at Aras Chill Dara.
Kildare County Council would like to extend a warm invitation to you and your family to join us at this year's event. All activities and parking are free on site and food and drinks will be available to purchase. We hope to see you there.