Kildare's Digital Champions
Showcasing Businesses in Kildare who are harnessing Digitalization and Technology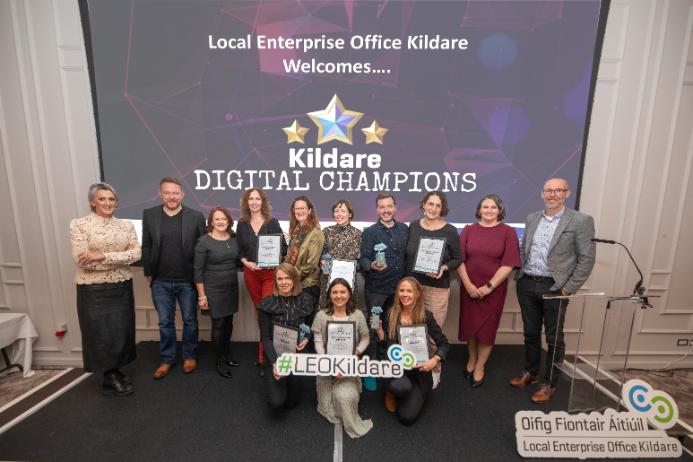 26th October: Kildare County Council's Enterprise Office celebrated the Digital Champion awards 2023 on Tuesday the 24th of October. The event took place in the Osprey Hotel with guest speakers Joan Mulvihill; Digitalisation and Sustainability Lead for Siemens in Ireland and Alan McCormack; founder of Carve On, Made Personal and SWAG.eu. A judging panel with expertise in digital strategy and export development were in awe with the volume of applicants that demonstrated best practice across all 4 categories:
Export Champion
Digitisation Champion
The People's Champion for best e-commerce experience
Overall Digital Champion
Sonya Kavanagh, Chief Executive of Kildare County Council said, "When the pandemic swept across the globe, the need to digitalise operations took on an unprecedented intensity. And it hasn't let up since. As local Authority, these awards affirm our commitment to help our businesses keep up with the latest developments by bringing more small businesses into the digital economy, we help them grow, trade, and become resilient. Kildare's digital champions was created to recognise the achievements of Kildare's business community in their adoption of new technologies and digital transformation, but also to encourage those who have not yet taken the leap on their own digital journey."
The Overall Digital Champion 2023 award winner was Vanessa Liston of Aphelion Limited T/A CiviQ, a business that provides software and methods for innovations in open public consultation and public opinion analysis for local governments, the public sector, and industry. Aphelion Limited T/A CiviQ made huge commitment to research and development in their infancy, creating and implementing a digital solution which supports counties, cities and government across the world today.
Kildare's Digitisation Champion award went to Deirdre O'Keeffe of Premier Accounts Assist Limited T/A Burdy. Burdy offers a professional, efficient and cost-effective bookkeeping and payroll service for businesses based nationwide. Judges were impressed by her commitment to support and lead small business owners to do the same.
GastroLife Limited, led by Melissa Dooley was named Kildare's Export Champion. GastroLife is a gastrointestinal testing centre for patients with functional gut symptoms. They provide services in 3 clinic locations; Beacon Consultants Clinic, Sandyford; Vista Primary Care, Naas; and in the Bon Secours Hospital, Galway. They also provide services globally via easy to order home testing kits. Biolife impressed the judges for being innovative, given the challenges the healthcare sector faces regarding resources and showing potential to scale up and continue its export growth.
The People's Champion for best e-commerce experience served up more than one winner, with two businesses tying for joint-first position on the day. Faerly and Siog Botanicals. This award was picked by a public vote, however the public gave Kildare's LEO an unexpected twist when they inadvertedly landed the category in a tie! The commitment to sustainability and providing the best-in-class E-commerce experience to their customers is why these two businesses were the clear winners of this category.
A special recognition category award for Customer Loyalty Champion was awarded to Biofield with Niamh and the E-commerce Start-up Champion award went to Magnetic Mobility.
Jacqui McNaab, Head of Enterprise, Kildare Local Enterprise Office added, "The objective of our Digital for Business initiative is to facilitate strategic intervention for companies to work with third party consultants to assess their digital maturity and highlight where there is room for improvement. The output of this engagement is a strategic, digital roadmap for your business."

"If this is not a support that you have availed of, please ensure that you get in touch. Another opportunity we are keen to share with you is that Kildare Local Enterprise Office has this year become a regional hub for Enterprise Europe Network – a digital portal to facilitate lead generation into export markets."
Each winner received investment into their business, a custom-made trophy and consultancy support to further enhance their digital export strategy for 2024.