Significant Investment in Creative and Community Schemes by Brigid 1500 Programme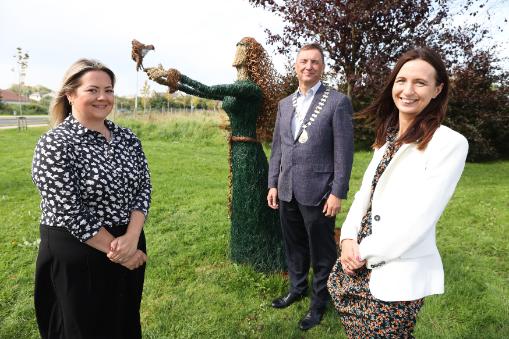 Kildare County Council's Brigid 1500 programme, announces a significant investment of €310,000 into local community initiatives, with the news of another big investment coming soon. Now in its second year, the Brigid 1500 programme was created to celebrate and commemorate St. Brigid, "the woman, the life and the legacy" in a broad and rich way.
Building upon the remarkable success of the inaugural year of the programme, The Brigid 1500 programme hopes to reach half a million in creative and community grants by the end of 2024. Some of the funding for these projects comes from Kildare's Local Property Tax, demonstrating the community's commitment to investing in and supporting these initiatives. This substantial investment emphasises Kildare County Council's dedication to empowering local initiatives that align with St. Brigid's values and principles.
In anticipation of next year's 1,500th anniversary of the saint's passing, the programme encompasses a series of events and initiatives, including festivals, concerts, art commissions, illuminations, and craft workshops, along with a dedicated schools programme aimed at honouring St. Brigid's legacy.
Commenting on the community grants programme, Sonya Kavanagh, Chief Executive of Kildare County Council stated, "As we look towards the second year of Brigid 1500, we are thrilled to deepen our support for local communities. The remarkable response from our communities has encouraged us to provide even greater support for their initiatives that echo the values championed by St. Brigid herself. It's not just about celebrating a historical figure; it's about breathing life into her legacy and empowering communities to carry it forward."
The community grants programme led by Brigid 1500 has provided crucial support to projects like 'Willow Workshops' that brings together members of the Irish Wheelchair Association and participants from the local community to create Willow Crafts. The initiative has also extended its support to projects including "Look to past, View to the Future '' a collaborative textile art project between artist Aideen Cross and 6th class students from St. Evin's School, Monasterevin.
Speaking about the support received from the grants programme, Aideen Cross said, "I am so grateful for the support extended by the Brigid 1500 programme to my proposal which allowed me to work with the talented students of St.Evin's, creating a large textile stained glass window wall hanging that is symbolic of our local hero. The children were involved in every aspect of this project from the design to the hands-on work with almost 100% recycled fabric and fibre to create this wonderful textile art piece that is full of history and creativity."

Cathaoirleach of the County of Kildare, Daragh Fitzpatrick also commented on the grants programme led by the Brigid 1500 programme, saying, "The Brigid 1500 grants programme plays a pivotal role in supporting local talent and ensuring that the rich heritage and legacy of St. Brigid continue to inspire our communities. These grants empower individuals to bring their creative visions to life, fostering a deep connection with our cultural roots while celebrating the enduring values of St. Brigid."
The 'Brigid 1500' initiative demonstrates a commitment to fostering a vibrant cultural heritage and nurturing local communities. Through the diverse range of events and projects, Brigid 1500 empowers individuals to connect with their roots, explore artistic expression, and champion the values that St. Brigid possessed.