Kildare Local Economic and Community Plan (LECP)
What is the LECP?
Kildare Local Economic and Community Plan (LECP) is a statutory plan provided for in the Local Government Act 2014. The purpose of the LECP is to outline the priorities to promote and support economic and community development in Kildare. The LECP doesn't replace other plans but complements them. It informs resource allocation and aims to maximise priorities. While Local Authorities are responsible for developing the LECP, it is not solely a council plan. It is a plan for the county, where local people, community groups, business and farming representative bodies, state agencies and elected representatives agree on priorities and work together to progress action.
Kildare LCDC is responsible for developing and overseeing the implementation of the community aspects of the plan. The Economic Development, Enterprise and Planning Strategic Policy Committee is responsible for the economic aspects.
The first LECP 2016-2021
All counties developed their first LECP 2016-2021. Kildare LECP identified twelve priority high level goals with supporting actions. This plan was approved in December 2015, and was based on extensive analysis, consultation and agreement. A copy of the plan can be downloaded Kildare LECP 2016-2021
Our second LECP 2023-2029
Work commenced in February to develop our second LECP. It is expected that the LECP will be finalised in December 2023. The plan follows six stages outlined in National Guidelines:

The LECP is approved by the elected members of Kildare County Council on the recommendation of the Economic Development, Enterprise and Planning SPC (Economic Element) and Local Community Development Committee (Community Element). We have just completed the Preparation Stage and Consultation is starting.
Stage One- Preparation
The Preparation Stage was focussed on gathering data, reviewing key policy documents, reviewing the first LECP and liaising with key groups. This resulted in the following documents:
The Socio Economic Statement resulted in a Draft Vision for the LECP 2023-2029 and four Draft High Level Goals: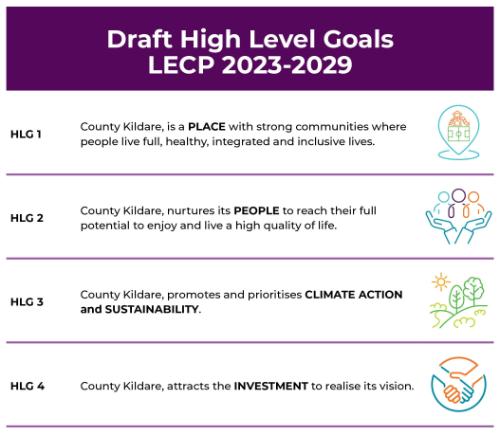 Stage Two- Consultation
We are now starting to consult with local communities, local businesses, voluntary sector organisations, statutory bodies, elected representatives and other key bodies. This will take place from July – September/October 2023. We are also reviewing consultations held recently as part of other planning processes to ensure that the views and ideas that you expressed are captured.
1) Consultation with community groups
We are working very closely with Kildare Public Participation Network (PPN) to run 5 local consultation meetings. This aims to engage with voluntary community groups, to hear their views. They will then be fed into the PPN Community Wellbeing Plan and the LECP. Schedule for Consultation Meetings within the County
2) Survey
We also have a short online survey that we would like as many people across Kildare to complete. This will inform the final LECP. It will only take 5-10 minutes to complete and is available here until Friday 15th September.
Contact Us
For further information please contact:
Susan Bookle, LECP Co-ordinator, Community Section, Level 7, Aras Chill Dara, Devoy Park, Naas, Co Kildare W91 X77F
Tel: 087 6687808 Email: sbookle@kildarecoco.ie