Maintaining and Emptying your Wastewater Treatment System (Septic Tank)
Maintenance and operation of a DWWTS (Domestic Waste Water Treatment System) is governed by The Water Services Acts 2007 and 2012 (Water Services (Amendment)) Act 2012. These Acts put a requirement on the owners of all DWWTS to maintain and operate those system in the correct manner and failure to comply is an offence. Fully details in relation to these acts may be obtained from the link below or from the EPA's Code of Practice for domestic wastewater treatment systems.
Operation and maintenance of a DWWTS (Domestic Wastewater Treatment System) is outlined in detail under Chapter 12 of the 2021 Code of Practice for Domestic Waste Water Treatment Systems as published by the EPA. A link to the Code of Practice is included below and the CoP can also be downloaded from the Council website.
To assist homeowners the EPA have also published a short video clip on how to maintain your septic tank or domestic wastewater treatment system and can be accessed on Youtube at
Emptying your Wastewater Treatment System (de-sludging)
As outlined under the CoP, the treatment system requires to be inspected and maintained on a regular basis. De-Sludging of the tank(s) should take place at the timeframes as outlined under EPA CoP Table 12.2 as shown below. For information and a list of contractors approved to de-sludge your septic tank or domestic wastewater treatment system and approved to operate in Kildare please either contact the National Waste Collection Permit Office located at Áras an Chontae, Charleville Road, Tullamore, Co. Offaly Telephone: 057 9357428 or check the list of approved contractors on
Simply carry out a 'quick search' for 'Septic Tank de-sludging' and choose 'Kildare County' for a list of approved contractors to carry out this work.
If the volume of the septic tank is known, de-sludging rates as shown in Table 12.2 can be followed (Gill et al., 2018). For example, the volume of a rectangular tank can be calculated by multiplying the length of the tank by its width and then by the liquid depth (Figure 12.1). A volume of 2.5 m3 should be assumed if the tank volume is not known and the frequency determined based on house occupancy only. When de-sludging the septic tank, the pump chamber should also be de-sludged. After de-sludging the chamber, the pump unit should be hosed down, the washwater and sludge should be removed from the pump chamber, and the effluent filter should be cleaned (EPA CoP 2021 - page 72)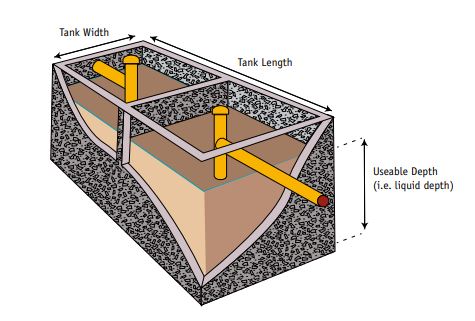 How to measure the dimensions of a septic tank
De-sludging frequency (1 to 5 years) for various sizes of tank and occupants (EPA CoP Table 12.2)