Water Framework Directive
Interested in water? Check out the website www.catchments.ie for water quality information on your own river, lake or other waterbody and how you can get involved and make a difference.
The Catchments.ie website is a shared resource that has been developed by the Environmental Protection Agency (EPA), the Department of Housing, Planning, Community and Local Government, and the Local Authority Waters and Communities Office (LAWCO). It allows for public access to information on rivers, lakes and coastal waters that has been gathered by the EPA and other bodies.
The Local Authority Waters and Communites Office (LAWCO) was estabilished to support communities engaged in water protection and restoration projects. www.lawaters.ie or www.watersandcommunities.ie
Community Water Officers, funding and communications staff are all working with LAWCO to support communities.
Aoife McGrath is the Community Water Officer covering the Local Authority Areas of Meath and Kildare.
Aoife can be contacted on 085 8083682 or amcgrath@lawaters.ie
_________________________________________________________________________

Water Framework Directive; Legislation
So what is the Water Framework Directive all about?
The EU Water Framework Directive (2000/60/EC) requires that all Member States protect and improve water quality in all waters so that we achieve good ecological status by 2015 or, at the latest, by 2027. The Directive was transposed into Irish Law through the European Communities (Water Policy) Regulations, 2003 (S.I. No. 722 of 2003). It applies to rivers, lakes, groundwaters, transitional and coastal waters. The implementation of the Directive includes the preparation of River Basin Management Plans (RBMPs). The first RBMPs covered the period 2010 to 2015.
Following a review of the first RBMPs, the Government established a new structure for the management, governance and responsibilities for the implementation of the WFD. The new structure was given legal effect by the European Union (Water Policy) Regulations 2014 S.I. 350 of 2014 and is designed around three inter-locking tiers.
This can be summarised in the table below: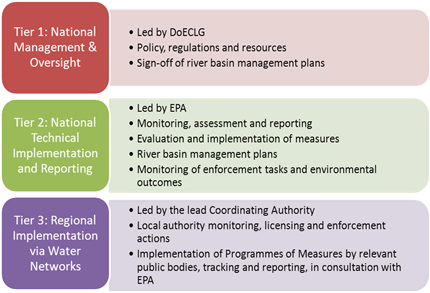 _______________________________________________________________________
Catchments Newsletters
Catchments Newsletters are being produced by the Regions and can be found below.
Please note that in County Kildare the River Barrow and it's tributaries are part of the South Eastern Region. The Rivers Liffey and Boyne, and all of their tributaries are part of the Midlands & Eastern Region.
Scroll down to view map showing all the regions in the country.
File Size:
1,071KB
- Document Type:
Acrobat pdf
File Size:
1,193KB
- Document Type:
Acrobat pdf
File Size:
801KB
- Document Type:
Acrobat pdf
File Size:
995KB
- Document Type:
Acrobat pdf
File Size:
1,355KB
- Document Type:
Acrobat pdf
File Size:
1,097KB
- Document Type:
Acrobat pdf
File Size:
939KB
- Document Type:
Acrobat pdf
File Size:
824KB
- Document Type:
Acrobat pdf
File Size:
97KB
- Document Type:
Acrobat pdf