Registering to vote/updating your details on the Register of Electors
Many of the provisions of the Electoral Reform Act 2022 (the Act) commenced on 13th October 2022. The full Act can be viewed here: https://www.irishstatutebook.ie/eli/2022/act/30/enacted/en/pdf
The main effects are:
Continuous registration – this means that the same process is in place all year around and your record can be updated at any time (up to 15 days before an electoral event).
Use of PPSNs in the process – in addition to enabling quick and easy online registration at checktheregister.ie, the use of PPSNs will enable confirmation of applicant identity data checks to protect the integrity of the register. It will help local authorities to ensure that the register is accurate and that everyone is only registered once. The data sharing involved in the cross-check with the Department of Social Protection is provided for in the Act.
Most people will no longer need to get their forms signed at the local Garda stations.
People will be responsible for registering and maintaining their own information – registration authorities will continue to work with their communities to maintain and manage the register with a view to ensuring it is complete and accurate.
There are new application forms, online processes and requirements that must be met when applying to join the Register of Electors arising from the Act.
Choose this if you:
have your PPSN and Eircode
are aged 18 or over and living in Ireland
are aged 16 or 17 and want to pre-register
Choose this if you:
don't have a PPSN
want to update your citizenship
want to apply for a special or postal vote
want to make a third party request for a change to the register
Even if your details haven't changed everyone is being asked to check and complete their details (by adding their PPSN, date of birth and Eircode). A nationwide public awareness campaign will commence by the Government later in 2022 regarding this.
A data cross check will be carried out using your PPSN and date of birth to confirm your details. This is aimed at enhancing the accuracy of the register of electors.
You can use the online option above if you:
have your PPSN and Eircode
need to confirm your details
need to update your name or address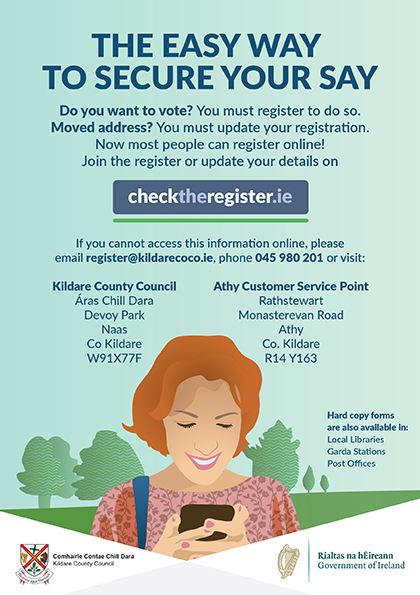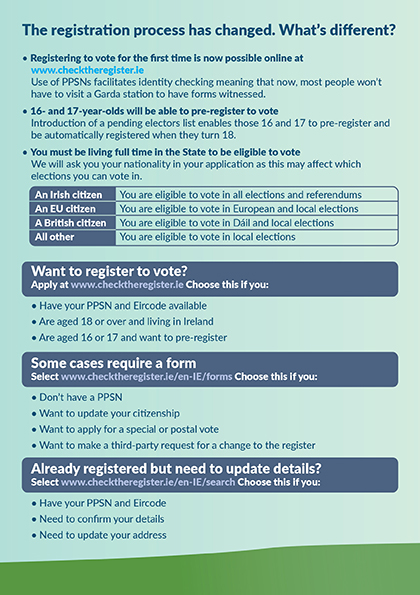 Documents