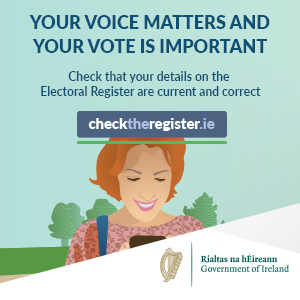 Change of Address/Name:
Recently moved address or need to update your name, you can now do this online at Check The Register .
You can use the online option if you:
have your PPSN and Eircode
need to confirm your details
need to update your name or address
A data cross check will be carried out using your PPSN and date of birth to confirm your details. This is aimed at enhancing the accuracy of the register of electors.
Even if your details haven't changed everyone is being asked to check and complete their details (by adding their PPSN, date of birth and Eircode).
Other types of changes to your details:
If you are looking to make any of the below changes then you will need to complete an application form, copies of which can be found www.checktheregister.ie/en-IE/forms
want to update your citizenship associated with their elector status
want to apply for a special or postal vote
want to make a third-party request for a change to the register
FAQ's to assist you with the above changes can be found here Check the Register.