What is Healthy Ireland in Kildare?
Healthy Ireland is a national response to improve health and wellbeing across the country. The Healthy Ireland framework for improved health and wellbeing sets out the vision, goals and priorities for 2013-2025.
Since 2017, Kildare has successfully implemented a Healthy Ireland Programme of work through a joint approach between Kildare Local Community Development Committee (LCDC) and Kildare Children and Young People's Services Committee (CYPSC).
The Healthy Ireland Fund has invested more than €715,000 in Health and Wellbeing across Kildare in the past five years. Kildare County Councils Healthy Ireland Coordinator oversees the programmes and activities carried out.
Click here to find a summary of Healthy Kildare Summary Round 1-3
Healthy Ireland Round 4
Kildare County Council, on behalf of Kildare LCDC has been approved for Healthy Ireland Round 4 funding 2023-2025. This application is based on the priorities of The Healthy Kildare Plan 2022 - 2026 which presents the Health and Wellbeing priorities for Kildare.
The framework for the Healthy Kildare Plan 2022 - 2026 has six priority areas: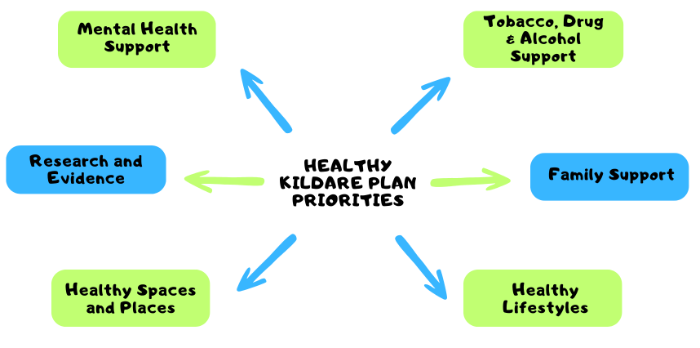 Vision
A Healthy Kildare, where 'everyone can enjoy physical and mental health and wellbeing to their full potential, where wellbeing is valued and supported at every level of society and is everyone's responsibility' Healthy Kildare Plan

Mental Health and Healthy Lifestyles are the priority areas from the Healthy Kildare Plan and the two priority areas selected for the Healthy Ireland Round 4 application were Wellbeing and Lifestyle and Behaviour Risk.
Contact Us
For further information please contact:
Claire Morrissey, Healthy Ireland Coordinator, Community Section, Level 7, Aras Chill Dara, Devoy Park, Naas, Co Kildare W91 X77F
Tel: 086 8858505 Email: cmorrissey@kildarecoco.ie