Sphishing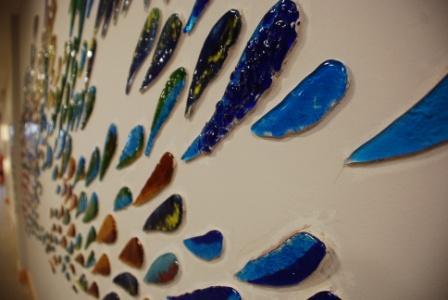 Project Title: 'Sphishing'
Artist: Michelle O'Donnell, Glasshammer - commissioned under the Per Cent for Art Scheme
Public Art Co-ordinator: Rina Whyte
Year of installation: 2008
Location: Athy Swimming pool, Athy
Medium: Glass
Artist's statement:
The artwork is designed to be a simple piece and is based on the movement of a shoal of fish.
The glass is made in repetitive shapes of fish. It makes a grand sweeping
movement of fused colour as it sweeps the wall changing in colour and scale.
About the artist:
Michelle O' Donnell is an Artist and Sculptor who has worked extensively for public and private glass art commissions. Some clients include Shell Oil, Glaxo Smith Kline, OPW, Department of Finance, Compaq Computers, Accenture and Green Properties. Her work covers a broad spectrum from internal architectural commissions to large public state bodies. Her work is highly regarded both at home and abroad and she has shown her work in private collections all over the world.
'Being a native of Donegal, the sea has always been a strong presence in the qualities I bring when crafting with glass. Depth and density of water, the blending sea blues looking up, to the stretching arches and shapes of fishing boats all have played influence on my visual language.
Nature is a consistent source of inspiration, and always offers me a new colour to explore or texture to investigate. It's these elements that influence my choice of soft colour bleeding and blending found in seascapes, or the dramatic sharp lines seen in landscapes. Scale is another quality I use to mirror the overwhelming sensations of vast expanses of sea and land.'